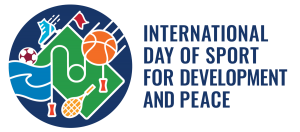 Sport has historically played an important role in all societies, be it in the form of competitive sport, physical activity or play. But one may wonder: what does sport have to do with the United Nations? In fact, sport presents a natural partnership for the United Nations (UN) system.
Sport as a Fundamental Right
The right of access to, and participation in, sport and play has long been recognised in a number of international conventions. In 1978, UNESCO described sport and physical education as a "fundamental right for all." But until today, the right to play and sport has too often been ignored or disrespected.
Sport as a Powerful Tool
Sport is a powerful tool to strengthen social ties and networks, and to promote ideals of peace, fraternity, solidarity, non-violence, tolerance and justice.
Celebrating 2019 International Day of Sport for Development and Peace (IDSDP), a special event organized by the United Nations Department of Global Communications, the Department of Economic and Social Affairs, the Office for Partnerships, and the Permanent Missions of Monaco and the State of Qatar to the United Nations will take place on 3 April 2019 at the UN Headquarters.
https://www.un.org/development/desa/dspd/2019/03/international-day-of-sport-for-development-and-peace-2019/