IKF OFFICIAL REPORT – SPORTACCORD CONVENTION 2011
London, UK (03 – 08 April, 2011)
SportAccord Mission
SportAccord's mission is to unite, support and promote its Member international sports federations and organisations for the co-ordination and protection of their common aims and interests, communication and co-operation, while at the same time conserving and respecting their autonomy.

SportAccord Role
SportAccord is the umbrella organisation for both Olympic and non-Olympic sports as well as organizers of sporting events. One of the main objectives is to unite and support international sports federations by encouraging and facilitating knowledge sharing and by providing expertise in relevant areas. SportAccord aims to promote its Members and to increase their visibility by establishing various multi-sports games that group together similar sports and put them on a worldwide stage.
"SportAccord fully recognises the IOC and the Olympic Movement's authority; it is and will remain as always a loyal partner in the achievements of the Olympic Movement objectives.

SportAccord believes that unity will strengthen the world of sport; as such, SportAccord is willing to reinforce its Members' position by uniting and supporting them. Through unity and synergies, SportAccord believes that the world of sport will be stronger when tackling global challenges together."

Hein Verbruggen
President SportAccord
Small brief :
The IKF delegation was composed by Amatto Zaharia (IKF Executive President ) and Eric La Rocca ( IKF Secretary General ) .
IKF Kempo/Kenpo's presence at this year's SportAccord Convention proved to be very succesful . This year's edition of the SportAccord Convention was one of the most important to date, as it was held in London just one year before the 2012 London Olympic Games. So that's why the IKF Kempo international office worked tirelessly to ensure that KEMPO will make a striking impact and received much popularity and interest from all delegates.
The SportAccord Convention organisers once again delivered a first-class opening ceremony hosted at the world-renowned O2 Arena at which talents the likes of Elton John to Led Zeppelin to Andrea Bocelli have performed.
As always, the opening address was made by IOC President Jacques Rogge, followed by a welcoming speech from SportAccord President Hein Verbruggen.
The very charismatic and humorous Mayor of London, Boris Johnson, had SportAccord delegates roaring with laughter as he delivered his welcome speech announcing that because they are almost done all the venues, he feels it is important to call a "snap Olympics." So guess what? The 2012 games could actually be happening in a few weeks! After asserting that he was just kidding. A most memorable welcome from an unforgettable Mayor of London!
IKF Kempo – Sport for Peace (04.April.2011)
An official IKF delegation, represented by Amatto Zaharia and Eric La Rocca had a very succesful meeting with Mr. Ludovic Hubler, Head of Programmes and Field Operations the Peace&Sports Organization.
Peace and Sports Organization ( "L'Organisation pour la Paix par le Sport") is a neutral and apolitical international initiative based in the Principality of Monaco and placed under the High Patronage of H.S.H. Prince Albert II of Monaco.
Supported by governments, world sport governing bodies, international organizations, major international private companies and international sports champions, Peace and Sport creates synergies between different stakeholders to carry out four types of action: • Organizing an annual International Forum • A co-operation platform for peace and sport, • The Peace and Sport Awards, to reward individuals and initiatives contributing to peace, • Locally-Based Projects; concrete actions in different regions of crisis in the world.
In the end of this meeting , IKF Kempo agreed to cooperate and to be involved by Peace & Sports Organization in their programmes worldwide.
IKF Kempo & Wilson (04.April.2011)
Amatto Zaharia and Eric La Rocca, the official IKF delegates to SportAccord Convention held in London 2011, had a great and succesful meeting with one of the greatest athletes in the world, Wilson Kipketer.
Wilson Kipketer (born 12 December 1972) is a Kenyan born Danish former middle distance runner. He holds the current indoor world records at the 1000 and 800 metres distance. While dominating the 800 m distance for a decade, remaining undefeated for a three-year period and running 8 of the 17 currently all-time fastest times.
Wilson Kipketer realized 1.41.11 sec. , the world record at 800 m.
"The sport matter because it's a great way of challenging and learning about yourself . But also , getting involved in sports is an amazing way of uniting people , and this more than ever is so important . This is why all sports are equal in my opinion , so NO SPORTS IS BETTER THAN ANOTHER , important is to work united togheter for the same goals ." , declared Wilson Kipketer for SportAccord Daily News .
KEMPO & WAKO PRO (04.April.2011)
The largest kickboxing organization in the world , WAKO ( World Association of Kickboxing Organizations) was a great partner of IKF Kempo during SportAccord Convention 2011 .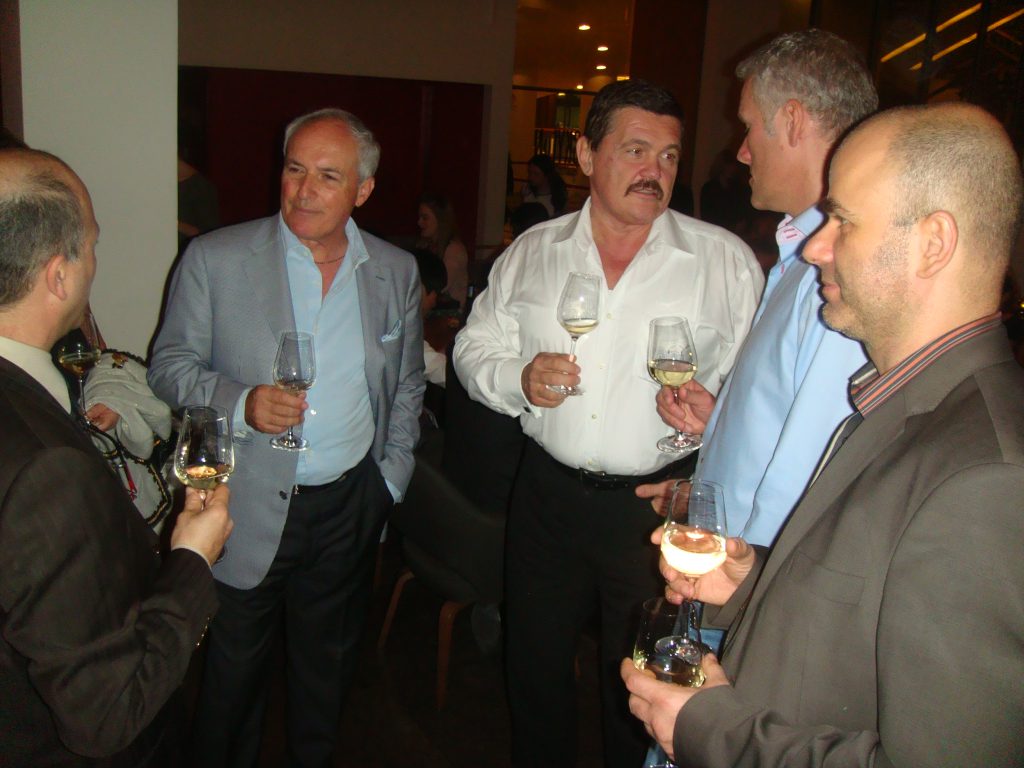 WAKO is the largest unified kickboxing organization in the world. In 2006, the International Amateur Kickboxing Sports Association (I.A.K.S.A) and W.A.K.O merged, making it possible for their acceptance by the General Association of International Sports Federations (G.A.I.S.F) , being known today as SportAccord , as the world governing body for the sport of Kickboxing.Today W.A.K.O can count on 126 affiliated nations in the 6 continents, with 75 officially recognised by their respective Sports or Olympic Council.
Having a strong friendship relation , Ennio Falsoni , the President of WAKO PRO togheter with Maria Falsoni , invited Amatto Zaharia and Eric La Rocca for celebrating togheter Ennio's 65 birthday , in a high-class restaurant , in a very selectiveVIP formula , Espen Lund and Dr. Leyrer Richard ( WAKO Vicepresidents ) , joining also this wonderful party .
Happy Birthday to you , Mr. President !!!
On the other hand , WAKO pointed another great succes during SportAccord Convention , Espen Lund from Norway ( WAKO Vicepresident ) being elected in the SportAccord Combat Games Committee . Congratulation Espen !!! Congratulation WAKO for this bug succes !!!
IKF Kempo & CISM (05.April.2011)
IKF Kempo and The International Military Sports Council had a meeting during SportAccord Convention 2011 , held in London . Amatto Zaharia and Eric La Rocca , representing IKF , and Olivier Verhelle , representing CISM as Executive Manager , had one hour of disscusions , which finished succesfully in an agreement of future partnerships .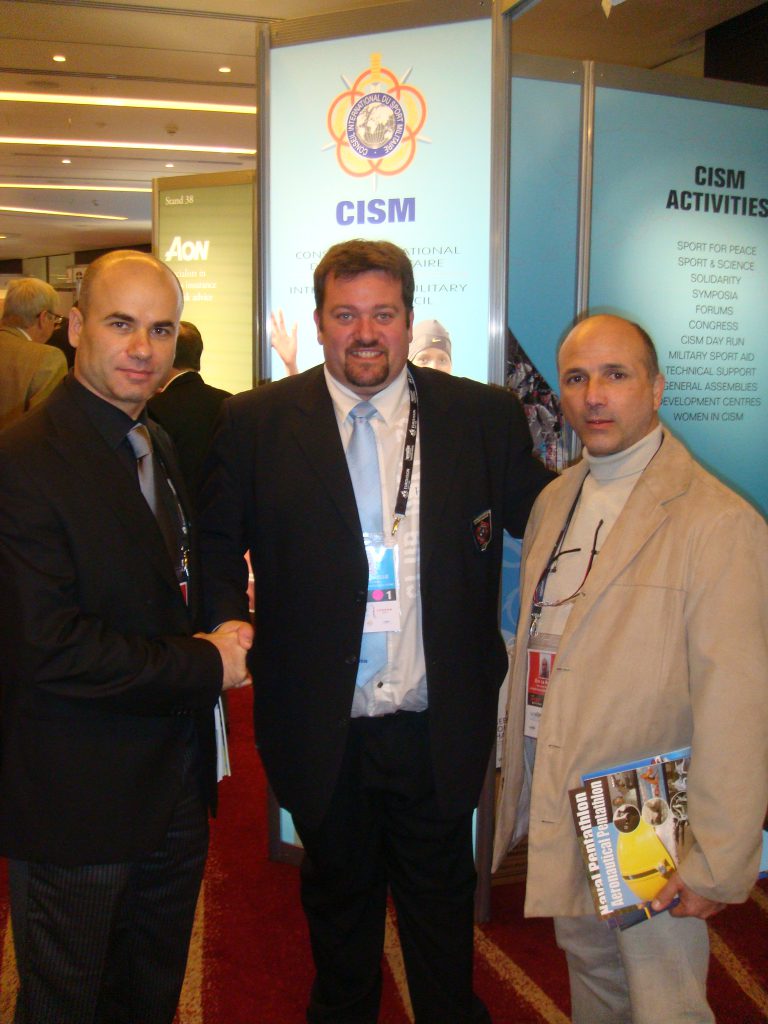 CISM ( The International Military Sports Council ), founded on the 18th of February 1948, is one of the largest multidisciplinary organisations in the world. We organise various sporting events for the armed forces of our 133 member countries. Soldiers, who may previously have met on the battle field, now meet in friendship on the sports playing field. This is in accordance with the philosophy and the ideals which were set in CISM's mission statement in 1998, signed by all the member countries.
Our ultimate goal is to contribute to world peace by uniting armed forces through sports. The motto under which we operate is « Friendship through Sport ».
The elected President of CISM is Colonel Hamad Kalkaba Malboum (Cameroon) , and the General Secretariat is located in Brussels under the management of the Secretary General, Colonel Morisod (Switzerland).
Sport and Solidarity
Numerous worldwide, continental and regional activities take place throughout 300 days of the year. The two pillars of CISM which function as the basis for these events are sport and solidarity.
CISM has become a stakeholder which can no longer be ignored by the international sports community. It plays an important role in training elite athletes. A true pioneer in international sports solidarity, CISM has implemented projects organized in conjunction with the IOC (International Olympic Committee) and organisations such as United Nations and the European Community. We have developed a close working relationship with national and international federations and with all international sports authorities.
Sports
CISM annually organises over twenty Military World Championships for different sports in which all member nations can take part. We also organize continental and regional competitions and every four years the Military World Games and most recently Winter Games are held. These are multisport events organized by CISM in conjunction with CISM member nations.
The 1st Military World Games were held in 1995 in Rome. 93 nations competed in 17 different sporting events to celebrate the 50th anniversary of the end of the 2nd World War.
Four years later about 7000 participants from 82 countries met in Zagreb, Croatia to contribute to the great success of the 2nd World Military Games. The 3rd edition was held in Catania, Italy from the 4th to the 11th of December 2003. Participants from 84 different nations competed in 18 sports.
The 4th CISM Military World Games were held in Hyderabad, India from October 14th till 21st, 2007. A record number of 101 participating countries celebrated world peace and showed the remarkable spirit of friendship and solidarity that unites all CISM member countries. The next edition will take place in July 2011 in Rio de Janeiro, Brazil.
Kempo & Plus Event Marketing
Amatto Zaharia and Eric La Rocca , met Tarik Koni , representing Plus Event Marketing from Turkey.
Plus Event Marketing is an event management company experienced in creating unique solutions for brand – customer interaction through customized events as well as operating as your business partner in designing, organizing, supervising, coordinating and implementing all forms of customer reach and corporate projects. The Plus team consists of expert project managers who value the element of experience and quality
in delivering corporate and brand values to customers and employees through entertainment and hospitality.
Plus Event Marketing thrives to "create memorable moments" for brands and customers through strategic planning, integrated marketing and execution. Such as;
• LG-BEKO Golf Tournament 2004-2009 Istanbul
• WINGS Sailing Cup Istanbul 2008
• WINGS Bosphorus Sailing Cup Istanbul 2008
• WINGS Winter Sailing Trophy Bodrum 2008
• AUDI Ski & Snowboard Championship Bursa 2005/2006
• SNOWMASTERS Ski & Snowboard Championship Bursa 2003-2009
• WINGS Winter Cup Ski Races Bursa 2009
• DOGUS GROUP Champions League 2008-2009
• DEVA GROUP Corporate Sports Games 2008
In the near future , Plus Event Marketing will organize great Kempo/Kenpo events in a great partnership with the International Kempo Federation .
Kempo & Muay Thai (06.April.2011)
Good Morning , London !. On 06.04.2011 at 6 am, the IKF Executive President, Amatto Zaharia, have been invited by Stephen Fox, the Secretary General of IFMA ( International Muay Thai Federation Amateur), for a Muay Thai training. For one hour and half, Amatto Zaharia combined Muay Thai punches, elbows, knees and kicks. Sparring was one of the "sweety" part of this session, which was finished in a very relaxed atmosphere.
"Fighting to win IOC recognition , is the main goal of Muay Thai . Off the back of SportAccord Combat Games (IOC partner ) , Muay Thay its renewing its fight to win the greatest recognition for a sport , IOC recognition . IFMA is a proud member of SportAccord , and we would like to say hello to our sporting friends , especially the other 13 martial arts and combat sports federations , whom have just made history togheter at the first edition of the SportAccord World Combat Games in 2010 in China , thsi event being the major millestone for the real combat sports federations " , declared Stephen Fox , the Secretary General of IFMA to SportAccord Daily News .
IKF KEMPO and BF&L Company (06.April.2011)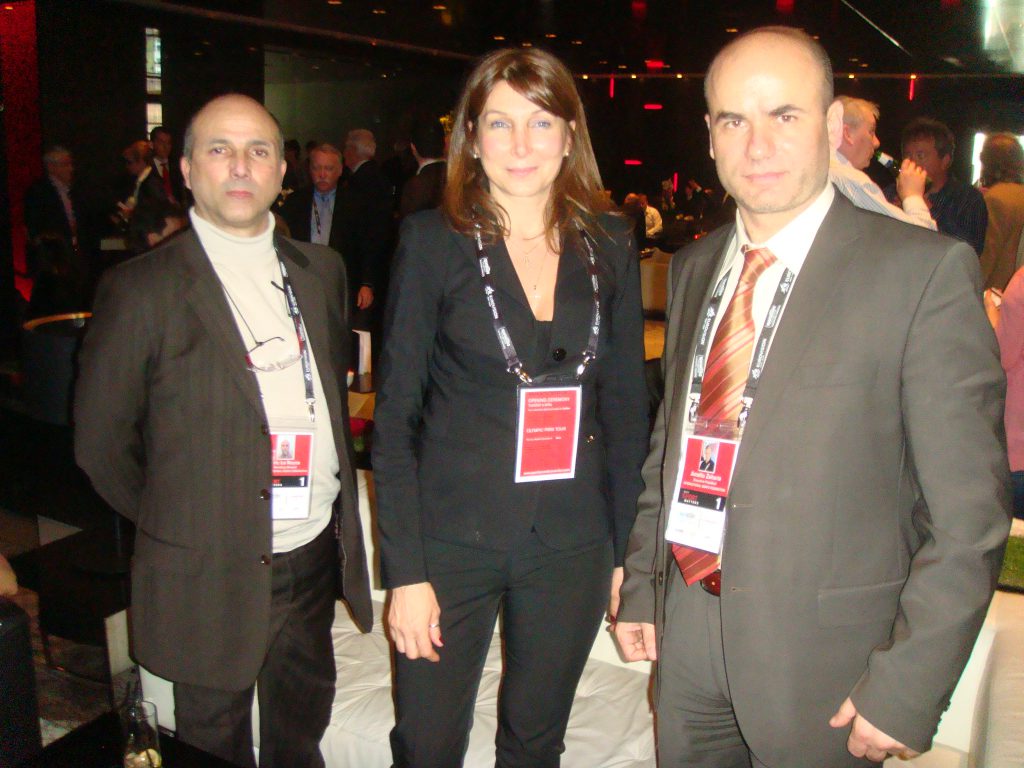 Cristina Franco is the best lawyer of BF&L Company , having its headquarter in Italy . During her meeting with IKF Kempo representatives in SportAccord Convention 2011 in London , Cristina Franco agreed with Amatto Zaharia and Eric La Rocca to organize IKF Kempo/Kenpo events in Italy . All these events will be sanctioned by CONI Italy and IKF , being co-organized and coordinated by BF&L .
KEMPO & WADA (07.April.2011)
During SportAccord Convention 2011 in London , IKF delegation met WADA officials and started the procedure for becoming a WADA member.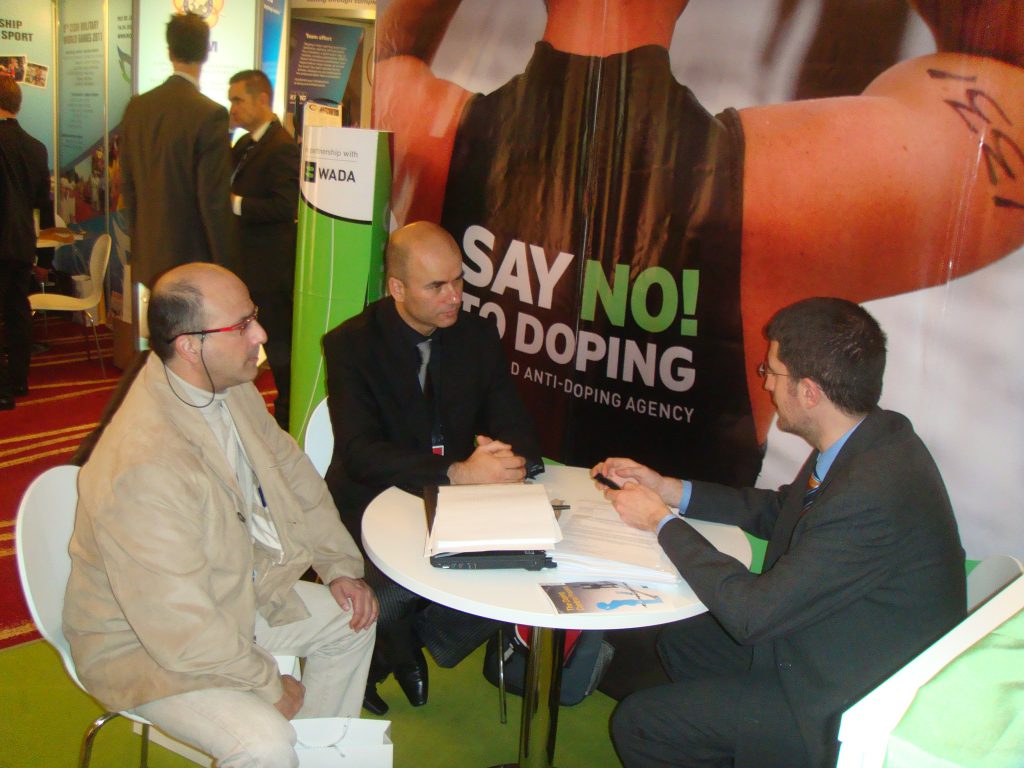 WADA (World Anti-Doping Agency ) was established in 1999 as an international independent agency composed and funded equally by the sport movement and governments of the world. Its key activities include scientific research, education, development of anti-doping capacities, and monitoring of the World Anti Doping Code (Code) – the document harmonizing anti-doping policies in all sports and all countries. WADA is a Swiss private law Foundation. Its seat is in Lausanne, Switzerland, and its headquarters are in Montreal, Canada. WADA promotes, coordinates and monitors the fight against doping in sport in all its forms . WADA works towards a vision of the world that values and fosters a doping-free culture in sport, being the only authority in this direction recognized and sustained by IOC .
IKF Kempo & iSportConnect (08.April.2011)
By the ocassion of SportAccord Convention , London 2011, an IKF official delegation had a meeting with one of the most exclusivist "connecting people"company. Amatto Zaharia and Eric La Rocca, started a partnership in the name of IKF Kempo with iSportConnect company, represented by Darren Mills (Bussines Development Manager), being already welcomed as official members .
iSportconnect : For the first time in the history of sports business, iSportconnect combines business networking, an in-depth look at the latest sports business news and the market data, listings of business events and executive jobs as well as market analysis to provide a one-stop shop for the sports business community.
It is an exclusive and exclusivist network for sports executives to connect & network and update with news & market data in a secured way with a STRICT DOOR POLICY.
iSportconnect is doing something that has never been done before, bringing everyone from the world of sports finance, law, broadcasting, marketing & promotion and events to one place, so they can learn, discuss and benefit from the wide ranging features that we offer.
IKF Kempo made a great step being included in this exclusivist company, in this way, Kempo going forward to a higher level .